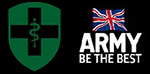 We are the Army Medical Services Reserve (Scotland) where medical staff have served with distinction in every theatre of operations from WW1 to Afghanistan, providing healthcare to both soldiers and civilians during conflict, peacekeeping, and humanitarian operations.
Opportunities in both Primary and Secondary healthcare plus access to unique clinical and non-clinical training, leadership, and management.
With locations across Scotland, we aim to prepare you to practice high quality medicine in any environment.
Non-Clinical roles such as Driver, Chef and HR Support Roles.
With a commitment of only 27 days a year and training geared to fit around you.
You help us save lives we will help you change yours.